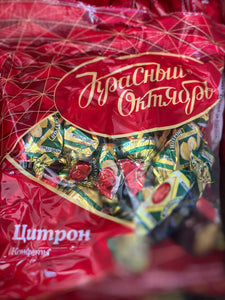 RO Chocolate Citron 250g
Sugar sweet with a refreshing citrus flavor.
Individaully wrapped.
Net weight: 250g.
---
"Red October" is the oldest of the confectionery industry in Russia, it is one of the largest and most famous confectionery producers in Russia.
The official date of foundation of the enterprise is considered to be 1851. This year a workshop for the manufacture of sweets and chocolate was started on Arbat, Moscow by Wurttemberg Theodore Ferdinand von Einem. In 1867 in the handbook "The factory of the enterprise of the Russian Empire" entry appeared: "Einem. Association of steam chocolate factory, candies and tea cookies".
After the October revolution, the factory was nationalized and was named "Red October" in 1922. The factory stood out with high quality of product and additional benefits enjoyed by employees, so the work there was prestigious.
In the postwar years the factory has become a sort of flagship, where everything new that appeared in the confectionery industry were developed, tested and applied in production . Thus, the first complex-mechanized production lines were created for the production of caramel, toffee etc.
In the 60's the factory has made significant upgrade, which included an increase in the number of storeys of existing buildings. All significant events occurring in the country, have been observed in confectionery: the first man in space - candy "Space"; Olimpic games in Moscow in 1980 - "Olympics-80"; sweets with a sports theme: "Finish", "Volleyball", "Lights of Moscow" and others .
The quality of products ensures thorough compliance with all regulations and state standards of the Russian Federation, as well as European conditions and standards of production. In 2008, the "Red October" has been certified according to the new international system of ISO 22000 food safety management system of production, and in 2012 received a certificate of ISO 9001-2008.
Products factory "Red October" participates in various international and domestic exhibitions, fairs and competitions. Trademarks has won many awards such as "Brand of the Year ',' Brand No 1 in Russia", "Product of the Year" and many other.