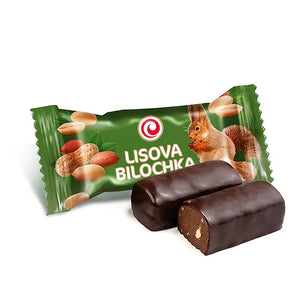 TM "Sweetale" is one of the leading confectionery factories  Ukraine, located in the city of Kremenchuk.
The history of formation of the confectionery enterprise TM "Sweetale" begins in 2003. It was then that for the first time the products of Sweetale which appeared on store shelves, impressed customers with their taste and quality, because these confectionery products are made only from natural raw materials.
​
The range of confectionery products produced at the company is regularly updated to take into account the wishes of customers. Sweetale products have special taste qualities and high energy value.
The main task of the confectionery company is to manufacture products on modern European equipment of the required quantity and high quality to meet demand. The main goal of the company is to focus on the consumer, his tastes, requirements, and achieve maximum product quality.
LISOVA BILOCHKA
Chocolate praline candy with grated peanuts and glazed
White sugar, vegetable fat (hydrogenated palm olein), confectionery glaze 18% (sugar, vegetable fat (hydrogenated palm olein), alkalized cocoa powder, soy lecithin emulsifier, Vanillin flavoring, table salt), corn flour, fried peanuts crushed 8 It is not recommended for people with diabetes mellitus who are allergic to lecithin soy, milk protein, peanuts.
Шоколадна пралінова цукерка з додаванням тертого арахісу та вкрита глазур'ю