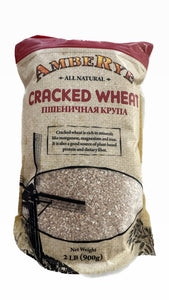 Wheat groats have rich content and a pleasant taste as well as an incredible health benefit. They are manufactured from durum wheat.
Wheat groats are particularly valued for their bracing properties. Wheat groats are a natural source of energy for human body which makes it an essential product both of daily and healthy diet.
Изготовитель: «Агро-Альянс»
Описание товара: Производится путем дробления зерна пшеницы твердых сортов, у которых сохранена отрубевая оболочка. Соответствует ГОСТ 276-60. В процессе приготовления крупа не разваривается полностью, готовая каша имеет хорошо выраженную структуру.
Состав товара: Крупа пшеничная Полтавская.
Способ приготовления: Предварительно крупу промыть водой. Использовать соотношение – 1 часть крупы, 2 части воды. Время варки 30 минут после закипания.
Меры предосторожности: Хранить в сухом прохладном месте.
Белки (в гр): 13
Жиры (в гр): 1
Углеводы (в гр): 71
Энергетическая ценность (Ккал): 340