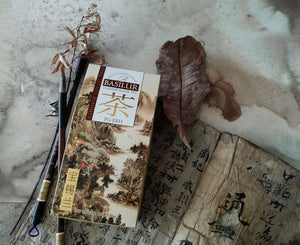 100g of Pure Chinese Pu Erh (Black) Tea

Packed into a resealable foil bag to help preserve freshness

Brewing instructions: Place one teaspoon of Chinese White Tea in a cup and add 80C/176F water. Let steep for 2-3 minutes. Add sweetener if desired.

Net weight: 100g.
Packed in Sri Lanka
Pu-erр comes from Yunnan, the Chinese botanical homeland of tea. There are more natural varieties of tea plants here than anywhere else.
Puer is often compared to good aged wine or brandy. And this is no coincidence. The taste and quality of this tea only get better over the years, and the most expensive pu-erh varieties are aged 15-25 years👀.
Tea is produced in loose form, then it can be pressed into a mould. Loose tea is usually easier to brew, unlike pressed tea, which must be divided into parts before brewing. But pressed puer can have collectable value.
Pu-erh should be stored in a dark place. Unlike other types and varieties of tea, puer should not be tightly clogged, you just need to put it in a closed opaque teapot, while preserving the tea the possibility of breathing.
"There is an opinion that Pu-erh is the most invigorating of teas." In fact, you can brew it in different ways, making it to your taste very invigorating or calm, not even contradicting a fast sleep.
Normally brewed pu-erh even contains less energy than green tea, but if necessary, pu-erh can be brewed harder when you need a long productive vigour, quick sobering when there is a long intellectual or physical work.
☝But remember the most important thing - the puer in your cup should be delicious! 😋😊  Try our Puer from the new collection "Chinese Tea" and share your impressions!