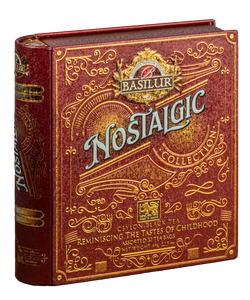 Blueberry Muffin

Take yourself to your childhood with Basilur's Blueberry Muffin, the ultimate flavourful breakfast tea made with Ceylon's finest black tea to recreate the delicious taste of your favourite backed delight. Start your day with Basilur's Blueberry Muffin tea and make yourself go down the precious memory lane!

Cookies & Cream

Basilur's Cookies & Cream will entice you with the delightful flavour of your favourite ice-cream. Carefully blended with Ceylon's finest black tea is a perfect treat to recall joyous memories. Feel the difference of the ultimate nostalgic tea experience and the undeniable satisfaction with every sip!

Cotton Candy

Basilur's Cotton Candy tea, made with the finest black tea blended with complimenting sweet flavours, is sure to provoke your inner child and bring back memories of childhood. Take a moment to walk back in time & relive in the most cherished moments with each sip of this glorious taste.

Gingerbread

Basilur's Gingerbread tea made with Ceylon's finest black tea and flavours will lead you to a carefree holiday season and evoke nostalgia of your childhood memories of the most magical season. Take a step back, wind down and enjoy each sip of this delicious tea that will help recall priceless memories.