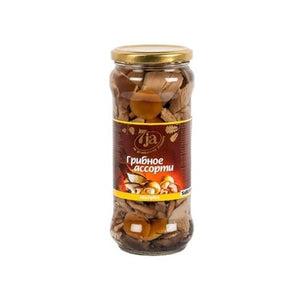 7JA Assorted Pickled Mushrooms 530g
The special mushroom mix is a blend of oyster mushroom, nameko mushrooms and whole shiitake mushrooms specially chosen for your favourite recipes.
This great combination can be used as a tasty accompaniment to lots of dishes or as a base for risotto and pasta.
Add it to your soups, stews, salads, quiches and omelettes for an exceptional gourmet experience.
Ingredients: nameko mushroom, shiitake mushrooms, oyster mushrooms, water, salt, sugar, wine vinegar, acidity regulator, acetic acid, garlic, bay leaf, clove, black pepper, dill
Product of Russia
Net weight: 530g