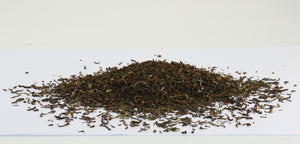 Speciality Classics - Darjeeling- Pure Indian Black tea from Darjeeling estates
Premium Ceylon black loose tea
DARJEELING 500g
Produced and packed in Sri Lanka
TRADITIONAL MANUFACTURE - Major tea brands have abandoned the traditional, centuries' old method of making tea for a new "fast track" automated process, which sacrifices the character & taste of real tea. Basilur remains faithful to its taste and authentic tea experience. All teas are Non GMO compliant and manufactured in ISO 9001 and HACCP certified factories.

SINGLE ORIGIN - 100% Single Origin, Pure Darjeeling Tea, Grown in India and packed in Sri Lanka.

AROMA & FLAVOR - Basilur teas are Certified 100% Pure unblended Black teas which are aromatic, robust, medium-full bodied Single Origin tea in functional packaging.