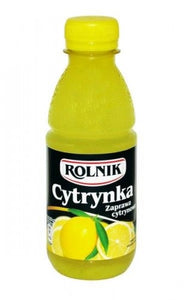 Rolnik Lemon lemon liquid concentrate  200 ml
The Rolnik lemon is a lemon liquid concentrate that can be used to give drinks and dishes a distinctive citrus flavor and aroma. Lemon will be a great addition to water, cocktails, drinks and other drinks, such as tea. The Rolnik lemon mortar can also be added to preserves, baked goods and to make expressive sauces and marinades. 

Usage / Application:
dilute at least 1 portion of lemon mortar per 4 portions of water. A delamination or sediment is not a product defect. Shake well before use

Components:
water, lemon juice (10%) (reconstituted from concentrated juice), sugar, acidity regulator: citric acid, natural lemon flavor, antioxidant: ascorbic acid, preservative: potassium sorbate.
poland