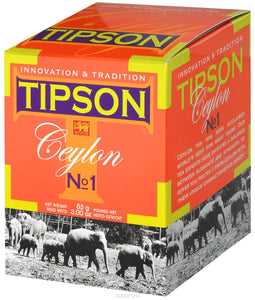 What is the difference between TIPSON teas and other teas?
We use a single origin – 100% Pure Ceylon teas in our blends. Skilled specialists with over several decades of tea experience select only the best tea for TIPSON. Most of our designs/shapes are unique to us as we have invested a lot in R&D. We are small. Therefore, we can offer you a more personalized and flexible service than others. Only the highest quality packaging materials have been used to ensure freshness, convenience to consumers and quality of the overall product. Freshness is an important fact in tea quality and in differentiating brands. TIPSON is packed right where the tea is grown. TIPSON guarantees a fresh cup of tea in each of their products, just a few days after the tea is harvested.
Basilur Tipson Ceylon No.1 Loose Leaf is a premium product from Basilur Tea which is considered one of the best tea companies globally. It is made using 100% Pure Ceylon black, long Loose leaf Opa Tea from the famous tea gardens of Ceylon. The experts at Basilur Teas have strived to offer the best teas from Ceylon. Tipson No.1 Loose Leaf Tea is a perfect sourced Ceylon Tea with the exquisite sweet taste which is one of kind. 
Benefits of Tipson Ceylon No.1 Tea:
Helps in improving overall health and immunity while providing rich taste with every sip.

Black tea contains polyphenols, which are antioxidants that help block DNA damage associated with tobacco or other toxic chemicals.

Phytochemicals found in Black Tea as natural ingredients help in strengthening bones and lowering the probability of arthritis.

Ceylon Black Tea helps in keeping diabetes under control especially for people who like to drink tea.