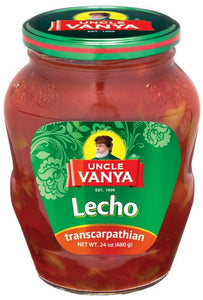 Uncle Vanya's preserved vegetables provide a unique and flavorful experience for all who try them. Their recipes are carefully crafted from traditional Eastern European ingredients, ensuring that each dish is full of flavor and nutrition. From pickles to sauerkraut and other fermented vegetables, Uncle Vanya has something to please every palate. Their commitment to quality and authenticity make Uncle Vanya's preserved vegetables a must-try for anyone looking to explore the flavors of Eastern European cuisine.
Lecho Transcarpathian 680 ml glass bottle
Per 100 g of product:
Carbohydrates - 6.5. Energy value (caloric content) kJ / kcal - 110/26
Ingredients

pepper sweet fresh
water
salt
sugar
tomato paste
citric acid
LECHO Uncle Vanya Transcarpathian 680g
Prepared according to the Hungarian recipe of sweet peppers using natural tomato juice. Very tasty and healthy!
"Transcarpathian" Lecho from Uncle Vanya is a great vegetable supplement or side dish.
ЛЕЧО Дядя Ваня Закарпатское 680г
Приготовлено по венгерскому рецепту из сладких перцев с использованием натурального томатного сока. Очень вкусно и полезно!

«Закарпатское» Лечо от Дяди Вани – это отличная овощная добавка или гарнир.

На 100 гр. продукта: Пищевая ценность на 100 г продукта: Белки – 0 г, углеводы – 6,5 г, жиры – 0 г Энергетическая ценность на 100 г продукта: 110 кДж, 26 ккал
остав
перец сладкий свежий
вода очищенная
томатная паста
сахар
соль
регулятор кислотности – лимонная кислота