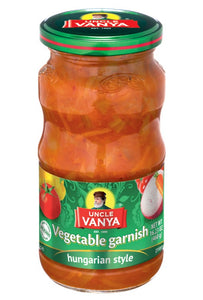 Uncle Vanya's preserved vegetables provide a unique and flavorful experience for all who try them. Their recipes are carefully crafted from traditional Eastern European ingredients, ensuring that each dish is full of flavor and nutrition. From pickles to sauerkraut and other fermented vegetables, Uncle Vanya has something to please every palate. Their commitment to quality and authenticity make Uncle Vanya's preserved vegetables a must-try for anyone looking to explore the flavors of Eastern European cuisine.
Vegetable garnish Hungarian style 460 ml jar
Per 100 g of product: Proteins - 5.0; Fats - 5,5, Carbohydrates - 3,0. Energy value (calories), kJ / kcal - 340/82
Ingredients
fresh sweet pepper
fresh carrot
fresh onion
sunflower oil
tomato paste
sugar
salt
acetic acid
black pepper powder
Shelf life:
3 years from date of manufacture
Storage conditions:
Keep in dry and cool place at temp 0 to 25C and humidity 75% as max. Refrigerate after opening at temp 3 to 7C within 3 days.