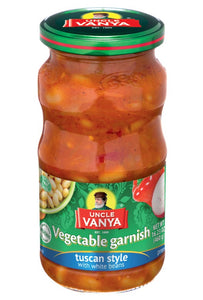 Vegetable garnish Tuscany style 460 ml jar
Slow stewed vegetable mix of carrot. An original recipe for snacks from white beans, Carrots and sweet Bulgarian peppers. Perfect as ready-to-serve side dish or supplement in cooking main dish. Low calorie. No preservatives.

Per 100 g of product: Proteins - 2,7; Fats - 6,3; Carbohydrates - 3.0. Energy value (calories), kJ / kcal - 330/80
Ingredients
carrots
white beans
onions
sweet pepper
sunflower oil
tomato paste
sugar
salt
black pepper
acetic acid
Shelf life:
3 years from date of manufacture

Storage conditions:
Keep in dry and cool place at temp 0 to 25C and humidity 75% as max. Refrigerate after opening at temp 3 to 7C within 3 days.