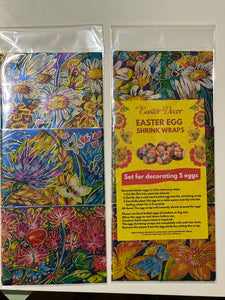 Easter Egg Shrink Wraps or Sleeves are the fastest and the most effortless way to decorate eggs for Easter. Kids love them because they shrink around eggs like a magic trick. Moms love it because it literally takes seconds. The fastest, the most beautiful Easter egg decorations around town. 
Easter Egg Shrink Wraps, Decorative Egg Sleeve.
Set includes 7 egg shrink wraps. Each wrap size: 72mm x 48mm. Traditional design, bright colours, beautiful egg decorations. Perfect and unique gift idea!
HOW TO USE EGG SHRINKING WRAPS
Cut the film into separate wraps. 
Gently slip the hard-boiled egg into the shrinking wrap.     
Carefully place the egg on a tablespoon and dip it into the hot boiling water for 3-5 seconds.   
All done! The wrap will instantly shrink around the egg.
BEST TO BE USED WITH 600g EGGS