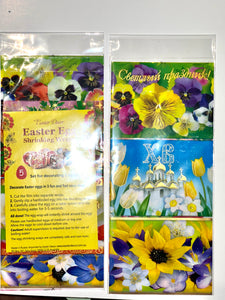 Easter Egg Shrink Wraps or Sleeves are the fastest and the most effortless way to decorate eggs for Easter. Kids love them because they shrink around eggs like a magic trick. Moms love it because it literally takes seconds. The fastest, the most beautiful Easter egg decorations around town. 
Easter Egg Shrinking Wraps (Stickers/Sleeves)

Zhostovo painting is an old Russian folk handicraft of painting on metal trays, which still exists in a village of Zhostovo in the Moscow Oblast. It appeared in the early 19th century mainly under the influence of the Ural handicraft of flower painting on metal.
The traditional Zhostovo Design is used in the Easter egg shrinking wraps. 

Printed with gold ink, Glorious design, Shining colours

Individual packaging, Perfect and Unique Easter Gift
Set includes 5 egg shrink wraps. Each wrap size: 72mm x 48mm. Traditional design, bright colours, beautiful egg decorations. Perfect and unique gift idea!
HOW TO USE EGG SHRINKING WRAPS
Cut the film into separate wraps. 
Gently slip the hard-boiled egg into the shrinking wrap.     
Carefully place the egg on a tablespoon and dip it into the hot boiling water for 3-5 seconds.   
All done! The wrap will instantly shrink around the egg.